Amazon Web Services Outage Map
The map below depicts the most recent cities worldwide where Amazon Web Services users have reported problems and outages. If you are having an issue with Amazon Web Services, make sure to submit a report below
Loading map, please wait...
The heatmap above shows where the most recent user-submitted and social media reports are geographically clustered. The density of these reports is depicted by the color scale as shown below.
Amazon Web Services users affected: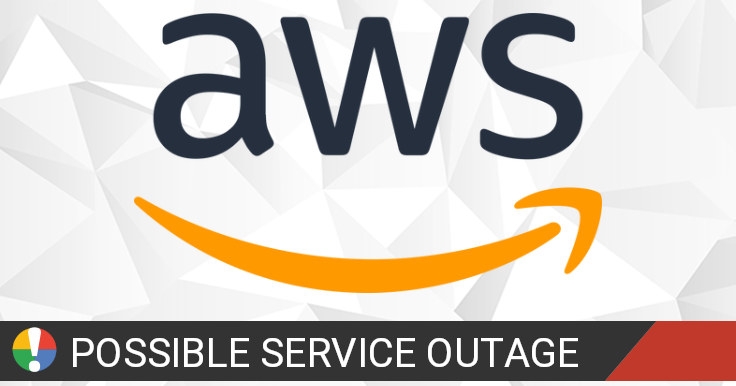 Amazon Web Services (AWS) offers a suite of cloud-computing services that make up an on-demand computing platform. They include Amazon Elastic Compute Cloud, also known as "EC2", and Amazon Simple Storage Service, also known as "S3".
Check Current Status
Most Affected Locations
Outage reports and issues in the past 15 days originated from:
| Location | Reports |
| --- | --- |
| Bogotá, Distrito Capital de Bogotá | 2 |
| Mumbai, MH | 2 |
| Gatineau, QC | 1 |
| Passo Fundo, RS | 1 |
| Alegre, ES | 1 |
| Bromsgrove, England | 1 |
| Jersey Shore, PA | 1 |
| Bengaluru, KA | 1 |
| Crawley, England | 1 |
| Durham, NC | 1 |
| Neubrandenburg, Mecklenburg-Western Pomerania | 1 |
| Pasto, Departamento de Nariño | 1 |
| Miranda de Ebro, Castilla y León | 1 |
| Glasgow, Scotland | 1 |
| Newark, NJ | 1 |
| San José, Provincia de San José | 1 |
| Houston, TX | 1 |
| Florianópolis, SC | 1 |
| Gliwice, Województwo Śląskie | 1 |
| Delhi, NCT | 1 |
| Andradina, SP | 1 |
| Cuauhtémoc, CHH | 1 |
| Caracas, D.F. | 1 |
| Garopaba, SC | 1 |
| London, England | 1 |
| Baltimore, MD | 1 |
| Concepción del Uruguay, ER | 1 |
| Jacutinga, MG | 1 |
| Fort Collins, CO | 1 |
Community Discussion
Tips? Frustrations? Share them here. Useful comments include a description of the problem, city and postal code.
Beware of "support numbers" or "recovery" accounts that might be posted below. Make sure to report and downvote those comments. Avoid posting your personal information.
Amazon Web Services Issues Reports
Latest outage, problems and issue reports in social media:
SULTAN AHMED

(@horizonAiG) reported

from Makkah al Mukarramah, Makkah Province

@awscloud Ok, is it possible to rely on users like every city or country that has millions of users but they do not have a server like Digiax 100 they have access to the Internet Is it possible to benefit from having servers if services are interrupted from the source

Wu Wei - Azubi

(@mt_klein) reported

@AWSSupport I am no premium customer, but I am waiting for a simple account login reset (from two factor to just password) for days now. I just want to get into AWS again, but imagine if there was something wrong with an important virtual machine? Whats the status? Noones has contacted me.

Nils Adermann

(@naderman) reported

@AWSSupport Think you are missing the point, setting up a standard user account with MFA should not require reading any docs, or at least not more than one article. The issue isn't the docs but an absurdly complex workflow without sane defaults for what should be standard functionality.

The American Caliban

(@substitute) reported

jfc @awscloud stop putting 20 overlays telling me about exciting new stuff and new console experiences and let me see the damn thing so I can work, I have an outage and I'm not in the goddam mood

Puneet Tandon

(@MrSarcastobeat) reported

from Mumbai Suburban, State of Mahārāshtra

Anyone knows if Google Cloud Platform @GCPcloud is better that AWS @awscloud hosting? Planning to move out of AWS since there's lot of problem I'm facing and practically non-existent support. The support forums are no good.

Corey Quinn

(@QuinnyPig) reported

@substitute @holo_of @awscloud I see you're dealing with an outage. Have you tried running on cloud blockchain instead—-oh no I got fired for even suggesting such a thing.

Mohan Reddy

(@MohanRe16256084) reported

So here I am not able to browse anything by using Jiofi. Can you look into this? Will you try to resolve this issue? @awscloud @reliancejio

Ben Kehoe

(@ben11kehoe) reported

@prestomation @charleswli @awscloud AWS needs a better way to do this. Adding an underscore is error prone and, as the tweet points out, what's the next breaking change going to do?

Austin_Wright

(@awwscript) reported

@AWSSupport I'm trying to button down our resource usage; and I'd like to easily enable AWS Config in the regions I want to be in, and disable all the other regions altogether. I'd like to request that as a feature, if that's not already possible.

Alexandre Sieira

(@AlexandreSieira) reported

@awscloud @AWSSupport @QuinnyPig But it does seem the 503 error I was getting might have been on purpose, since I do have ALIAS records for a CloudFront distribution on the domain I was testing this on. Better to get an error during configuration than to have the distribution fail to resolve, I guess.

Wu Wei - Azubi

(@mt_klein) reported

@awscloud hi, since the day before yesterday I try to login, but although I tried every possible way, wrote to the support (which send me three times template emails that didn't help) and let my two factor login deactivate (was confirmed but it is not) no result. Please help!

BBTelugu4Critic

(@BBtelugu4critic) reported

@awscloud hello I registered to aws free tier. I was told to give credit card details just for verification purpose but I was getting billed all the time. What kind of fraud is this ? There is now contact number or anything to call and resolve my issue. Can you guys help me ?

🐬A-Rod the phinphan🐬

(@TheGreatPhinsby) reported

@SNFonNBC @CSimmsQB @awscloud Bottom line.. whatever Simms says go with the opposite. He's terrible at predictions and scouting.

Donny Dey

(@MusicLessonsATL) reported

from Avondale, Arizona

@AWSSupport I have repeatedly tried to contact you regarding our server web services and accessing our EC2 time and time and time again! I thought Amazon was the number one customer service business in the world?! Apparently not!!!!

Carl Johnstone

(@carljohnstone) reported

@idnorton @AWSSupport Looks like a different problem to mine! That does look like a service problem at the @AWSSupport end to me though.
Check Current Status