Apex Legends Outage Map
The map below depicts the most recent cities worldwide where Apex Legends users have reported problems and outages. If you are having an issue with Apex Legends, make sure to submit a report below
Loading map, please wait...
The heatmap above shows where the most recent user-submitted and social media reports are geographically clustered. The density of these reports is depicted by the color scale as shown below.
Apex Legends users affected: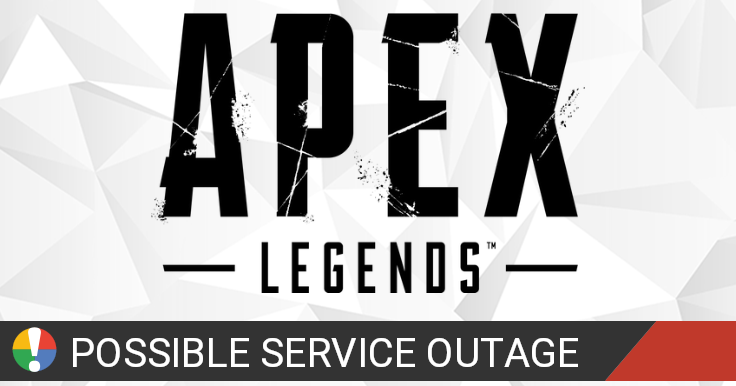 Apex Legends is a 2019 online multiplayer battle royale game developed by Respawn Entertainment and published by Electronic Arts.
Check Current Status
Most Affected Locations
Outage reports and issues in the past 15 days originated from:
| Location | Reports |
| --- | --- |
| Sydney, NSW | 5 |
| Paris, Île-de-France | 5 |
| Santiago, Región Metropolitana | 5 |
| Miami, FL | 4 |
| Brisbane, QLD | 4 |
| Rome, Lazio | 3 |
| Nantes, Pays de la Loire | 3 |
| Birmingham, England | 3 |
| Hamburg, HH | 3 |
| Johannesburg, Gauteng | 3 |
| La Plata, BA | 3 |
| Leeds, England | 3 |
| Aranda de Duero, Castilla y León | 2 |
| Vienna, Wien | 2 |
| Managua, Departamento de Managua | 2 |
| Zürich, ZH | 2 |
| Herisau, AR | 2 |
| Reggio nell'Emilia, Emilia-Romagna | 2 |
| Belo Horizonte, MG | 2 |
| Exeter, England | 2 |
| Beijing, Beijing Shi | 2 |
| Adelaide, SA | 2 |
| Tampere, Pirkanmaa | 2 |
| The Hague, zh | 2 |
| Frankfurt am Main, Hessen | 2 |
| Lyon, Auvergne-Rhône-Alpes | 2 |
| Niterói, RJ | 2 |
| Otzberg, Hessen | 2 |
| London, England | 2 |
| Singapore, Central Singapore Community Development Council | 2 |
Community Discussion
Tips? Frustrations? Share them here. Useful comments include a description of the problem, city and postal code.
Beware of "support numbers" or "recovery" accounts that might be posted below. Make sure to report and downvote those comments. Avoid posting your personal information.
Apex Legends Issues Reports
Latest outage, problems and issue reports in social media:
malcolm

(@tfsober) reported

@PlayApex Have time to make things that will make you money but no time to fix issues like tracker stats not updating.

Addi.bear96

(@AddiBear96) reported

@Respawn please fix your game. My progress over the past few days have been completely removed constantly! What is going on!?

Aaron

(@Aaron23290854) reported

@EAHelp @Respawn Your gross and cant fix your damn game, like a two year old has described the new guns and characters. Trash. No balance but you dont care. Im a probably one of the most faithful players out there and respawn, the way you guys have suckes recently i want to vomit🤮🤮🤮🤮🤮🤮🤮🤮

NathanvdVosse

(@DFox313) reported

@PlayApex pls fix sbmm im lvl 86 and facing preds

Robin McCulloch (She/Her)

(@wizzmet) reported

@Respawn @PlayApex @EA Please prioritize fixing the ******* matchmaking in your game. There is absolutely NO reason i should be paired up against Preds CONSISTENTLY when i've never broken silver I know you guys only care about tournament play but please keep the casuals in mind.

ellie | s/h

(@998CHERRY) reported

@PhilipNeufeld @Respawn @PlayApex yeah it's a bug i'm hoping they fix it asap bc i'm tired of going back down each time i make progress it's annoying n making me not wanna play

Lotte Lise Pedersen

(@LotteLisePeders) reported

@HisandHersLive @PlayApex Armour swap shouldn't be in the game in the first place! It's broken

Mister Shotz

(@iM_sHoTz_TTV) reported

@KnownAsFragz @PlayApex Atleast they give loss forgiveness or it would be an issue. Lol

Psycho

(@brandongMUFC) reported

Apex and sound just don't work together whatsoever. How long does it take to fix this issue ffs @PlayApex

❤️‍🔥💫

(@AchmadXO) reported

@CloverWzy @PlayApex i said octane was the problem over rev all along lol. nerf octane pad, make it max 3 uses and see how balanced revtane will be

D3M3 WILSON

(@D3M3WILSON) reported

@PlayApex anyone else having an issue with kd and badges not keeping track. its been happening for a week.

ArcSicko YT

(@arcsicko) reported

@Respawn I'm getting a problem lately where I'm getting low level players around 16- 25 on my team in arena Rank mode. I'm a level 184 an in Rank Platinum 2. Why is it I get low rank players on my team but always getting Diamond rank an up on the enemy team.

Alex Brooks

(@AlexBro18534087) reported

@Respawn I'm having a problem with my apex not giving me legend tokens or Apex packs and there for a while I wasn't able to level up every time I close the application on PlayStation4 The game would reset me back to lvl 11 Apex legends currently owes me 1200 Legins tokens

Dennis Crosby

(@dcrosby704) reported

@PlayApex can disable the kraber until you guys fix the audio for it.

Cole Wood

(@ColeWoo63691332) reported

@CloverWzy @PlayApex Seer is broken..
Check Current Status