Candy Crush Outage Map
The map below depicts the most recent cities worldwide where Candy Crush users have reported problems and outages. If you are having an issue with Candy Crush, make sure to submit a report below
Loading map, please wait...
The heatmap above shows where the most recent user-submitted and social media reports are geographically clustered. The density of these reports is depicted by the color scale as shown below.
Candy Crush users affected: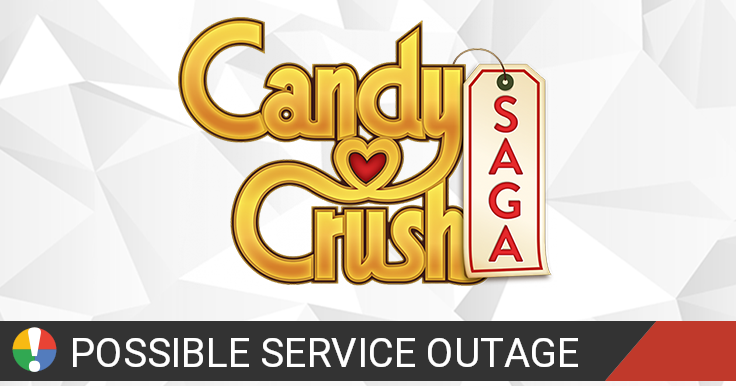 Candy Crush Saga is a free-to-play mobile match-three puzzle video game released by King on April 12, 2012, for Facebook; other versions for iOS, Android, Windows Phone, and Windows 10 followed. It is a variation on their browser game Candy Crush.
Check Current Status
Most Affected Locations
Outage reports and issues in the past 15 days originated from:
| Location | Reports |
| --- | --- |
| Rome, Lazio | 14 |
| Madrid, Comunidad de Madrid | 12 |
| Barcelona, Catalunya | 9 |
| Milan, Lombardia | 7 |
| Genoa, Liguria | 6 |
| Ogden, UT | 5 |
| Worthing, England | 5 |
| General Alvear, BA | 4 |
| São Paulo, SP | 4 |
| Punta Gorda, FL | 4 |
| Astigarraga, Euskal Autonomia Erkidegoa | 4 |
| Florence, Toscana | 4 |
| Montréal, QC | 4 |
| Itaquaquecetuba, SP | 4 |
| Liverpool, NS | 3 |
| Naples, Campania | 3 |
| London, England | 3 |
| Turin, Piemonte | 3 |
| Bourg-en-Bresse, Auvergne-Rhône-Alpes | 3 |
| Vigo, Galicia | 3 |
| La Plata, BA | 3 |
| Venice, Veneto | 3 |
| Grays, England | 3 |
| Osimo, Marche | 2 |
| Guayaquil, Provincia del Guayas | 2 |
| Alessandria, Piemonte | 2 |
| Bogotá, Distrito Capital de Bogotá | 2 |
| Cali, Departamento del Valle del Cauca | 2 |
| Herrera de Duero, Castilla y León | 2 |
| Liverpool, England | 2 |
Community Discussion
Tips? Frustrations? Share them here. Useful comments include a description of the problem, city and postal code.
Beware of "support numbers" or "recovery" accounts that might be posted below. Make sure to report and downvote those comments. Avoid posting your personal information.
Candy Crush Issues Reports
Latest outage, problems and issue reports in social media:
Kai hrts han

(@curlyloml) reported

i've been playing so much candy crush it's becoming a problem 🧍

Gawd

(@PrantikJha2) reported

@zamdoteth @Helloimmorgan I'd say the problem is that u need to own a sewer pass to play so it's not really free. but mid is just a perspective imo. candy crush is mid too, but it pulled numbers. yuga got enough attention for this game, seeing as it's not even free and super trash. proof of concept imo

Aleksander / Psycheout - Axie Infinity

(@Psycheout86) reported

@Loopifyyy That's the problem with CT. Trash talking games they don't like, forgetting that they are not the target market. I don't like candy crush, but it's still an amazing game that people spend a lot of money on.

Erich Landstrom

(@ScienceGiant) reported

@hideacorp Once again @YahtzeeCroshaw was right. He predicted the trend of people wanting to play "cozy" games. And sure enough, after Angry Birds and Fruit Ninja, after Candy Crush and Pokémon GO, we come to the decidedly low-stakes and slow-tempo of Cats and Soup.

Carl Haworth

(@CarlHaworth01) reported

@CandyCrushSaga such a shame that you really slow down any advancement in the game after a certain level without having to spend money. I'm aware that it's a business but hey give the tight ****** players a bit of a chance

Charlotte Lacey

(@lottie_thfc) reported

Apparently paratici is working as normal on what his candy crush score cause it sure as hell ain't working on transfers

Fawn Liebowitz

(@liebowitz_fawn) reported

@theedifyingword I am significantly better at Wordle , Candy Crush, etc. later at night. I need to get into a more normal sleep schedule, but sometimes I will stay up until 2 or 3 am working on sewing, organizing, or other projects.

Sir Michael Anthony Carrasquillo

(@carrasquillo784) reported

@King_Games I have Candy Crush Soda Saga and since I updated the game I was automatically signed out and my level of 532 is still there but now IT WONT LET SIGN BACK IN! :-( keeps saying " there is a connection error please try again later.

Recep Çetin

(@cetin_recep) reported

@King_Games i have a login problem with mail account in candy crush game..

Amanda D a r k o Artistry

(@AmandaD_arko) reported

It's messed up Crash on the Run didn't even last 2 years under King's watch. Ohh but you can bet they put all their work into that dumb Candy Crush game. 🙄

Paul Cyclops 🇭🇰

(@Paul_Cyclops) reported

@JustLawtom Misleading 🚨 (Sorry, Context Alert 🚨) Factcheckers confirm that Sir Keir was in fact immersed in progressing from Level One on Candy Crush Challenge & not 'working' at the time this photograph was taken. Did you find this helpful?

mute.

(@mutale019) reported

Micro transactions are only a problem when you're broke. Because me once I touched decent money splashing the occasional k16 on candy crush isn't a problem.

Keep the zero

(@StevieGaultPal) reported

@Rjeffrey1872 No being funny, but if you can't sit in traffic without playing candy crush, you have issues.

blueicecream100

(@CampyCraft) reported

@Rap It's Fiction. Eminem died in a tragic car crash in 2017. Witnesses say he was "hitting a sick clip in Candy Crush and wasn't paying attention to the road."

Equilibriumcow

(@equilibriumcow) reported

@PropterMalone @MBZachariades @mattyglesias Yeah I have no problem with this. I would love for us to drop the pretext and just remove the cops from playing candy crush in their SUVs to playing candy crush on the trains.
Check Current Status