eToro Outage Map
The map below depicts the most recent cities worldwide where eToro users have reported problems and outages. If you are having an issue with eToro, make sure to submit a report below
Loading map, please wait...
The heatmap above shows where the most recent user-submitted and social media reports are geographically clustered. The density of these reports is depicted by the color scale as shown below.
eToro users affected: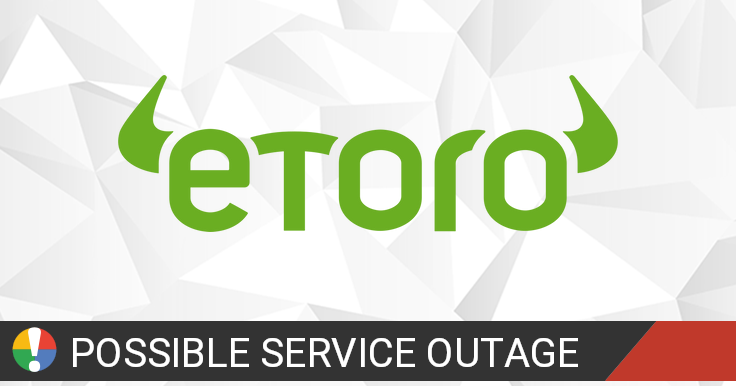 eToro is a social trading and multi-asset brokerage company that focuses on providing financial and copy trading services. eToro offers trading and investing in cryptocurrencies, stocks, ETFs, currencies, indices, commodities and more.
Check Current Status
Most Affected Locations
Outage reports and issues in the past 15 days originated from:
| Location | Reports |
| --- | --- |
| Bogotá, Distrito Capital de Bogotá | 3 |
| Vienna, Wien | 3 |
| Schwäbisch Gmünd, Baden-Württemberg Region | 2 |
| Frýdek-Místek, Moravskoslezský kraj | 1 |
| Herne Bay, England | 1 |
| Lima, Provincia de Lima | 1 |
| Werdau, Saxony | 1 |
| Buenos Aires, CF | 1 |
| Leicester, England | 1 |
| El Prat de Llobregat, Catalunya | 1 |
| Bourgoin-Jallieu, Auvergne-Rhône-Alpes | 1 |
| Barcelona, Catalunya | 1 |
| Herzlake, Lower Saxony | 1 |
| Johannesburg, Gauteng | 1 |
| Sankt Pölten, Niederösterreich | 1 |
| Columbus, OH | 1 |
| Nanterre, Île-de-France | 1 |
| Florence, Toscana | 1 |
| Guatemala City, Departamento de Guatemala | 1 |
| Goussainville, Île-de-France | 1 |
| Frankfurt am Main, Hessen | 1 |
| Barry, Wales | 1 |
| La Ciotat, Provence-Alpes-Côte d'Azur | 1 |
| Poulx, Occitanie | 1 |
| Coslada, Comunidad de Madrid | 1 |
| Lausanne, VD | 1 |
| Sinigo, Trentino-Alto Adige | 1 |
| Borken, NRW | 1 |
| Tarapoto, Región de San Martín | 1 |
| Paris, Île-de-France | 1 |
Community Discussion
Tips? Frustrations? Share them here. Useful comments include a description of the problem, city and postal code.
Beware of "support numbers" or "recovery" accounts that might be posted below. Make sure to report and downvote those comments. Avoid posting your personal information.
eToro Issues Reports
Latest outage, problems and issue reports in social media:
Pixie Wheatfield

(@uddlebug) reported

@eToroTeam @eToro Hi, this was where I tried earlier, and I couldn't but problem got solved in the meantime; it must have been just some temporary blackout. Many thanks.

Alin🌒

(@alin_g85) reported

@eToro @Nouriel @yoniassia Support $LUNC burn!!!

Mark Lyon

(@Mlyon89) reported

@eToro im having trouble logging into my account due to my 2fa verification code not coming through to my phone via text or phonecall. So i tried to open a customer services ticket. but guess what.. i cant open a customer services ticket without signing in which is the problem!!

ulver johnsen 🍀

(@UlverJ) reported

@eToro @Nouriel @yoniassia Making money is no longer the issue. Consumerism is what is killing people around the planet. Look at Pakistan. Look at Afrika. Dying because of this economic system.

chirpsfromkhali

(@DesertFinance) reported

People are complaining about execution issues on @RobinhoodApp You clearly haven't heard of the pain @eToro customers have been put through.

Aaron Siingh

(@SiinghAaron) reported

@eToro guys I need you to help me asap … my money is with you guys and you've still got my account on lock ? What's going on ?

TrendRaider

(@CoreyBury) reported

@PixelLionArt @eToro damn, that's cool. Imagine the cost of the real estate within the view

Luke Evans

(@snavelevans) reported

@NUFC @eToro I would rather watch a papercut in slow-mo than see Murphy play for us

Tomsi

(@HawajskiBzyk76) reported

@eToro What happen to Android Etoro app after today update ? White screen, app frozen, no signs of life, no mobile (or WiFi) data transfers at background, null. Any suggestions ? App deinstaled and reinstalled, it didn't help.

Popero Pipero

(@Poperopipero) reported

@eToro Hi, I've done my deposits last year but already alocated them on several stocks. Does it mean I can't continue using the service?

Paul

(@PawlMartin) reported

@MeeroyLFC @NUFC @eToro Who went down? Lascelles? Is he on the pitch? Also we are doing less running today than the Liverpool game. Happens when you have less possession. Think you pillock.

𝕄𝕚𝕔𝕙𝕒𝕖𝕝⚫️⚪️💙

(@MichaelNUFC_) reported

@NUFC @eToro Down to 10 men then?

Kris Adamson

(@Nosmada1992) reported

@NUFC @eToro Why ******** does murphy get game time man?

Lee

(@MeeroyLFC) reported

@PawlMartin @NUFC @eToro Are you thick? They were going down with cramp at about 70 minutes. They are on 90 here and fit as fiddles. #cheats

Paul

(@PawlMartin) reported

@garrettWtoon @NUFC @eToro You think Wilson will be on the bench on his return? I bet he plays Isak RW. Again have no issue with Isak, he had a poor game today. Every player has poor games. He played well against Liverpool offered those runs & held the ball well. He didn't do that today. Just being honest.
Check Current Status