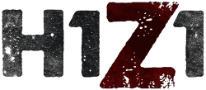 Is H1Z1 down?
No problems detected at H1Z1
If you are having issues, please submit a report below.
H1Z1 is a survival sandbox massively multiplayer online gamepost-apocalyptic MMO in which you must fight for your live against a world overrun by zombies. Developed by Daybreak Game Company and available for Xbox, Playstation and Windows.
H1Z1 problems in the last 24 hours
The following chart shows the number of reports that we have received about H1Z1 by time of day over the past 24 hours. An outage is determined when the number of reports are higher than the baseline, represented by the red line.
At the moment, we haven't detected any problems at H1Z1. Are you experiencing issues or an outage? Leave a message in the comments section!
Most Reported Problems:
Online Play

Sign in

Game Crash
H1Z1 Comments
Tips? Frustrations? Share them here. Useful comments include a description of the problem, city and postal code.
H1Z1 Issues Reports
Latest outage, problems and issue reports in social media:
PEDRO | ČK

(@PEDR0_FPS) reported

I actually miss H1Z1, that **** was soooo addicting even tho it had numerous problems, bring back the old vibes man..

FarmerT3d

(@FarmerT3d) reported

@DaybreakHelp How long does support normally take? I've had an issue with my account for the past 24 hours now and I'm afraid with the 4th of July holiday, I won't be hearing back from support until next week.

Mistress of Discord

(@MsAndropy) reported

@DaybreakGames @DaybreakHelp Will there be any statement on the permabans from the EQ2 server 'Drunder'? Are there more bans coming to other servers? How do we know if our account is in danger? Or what were the rules broken or changed to initiate this event?

non

(@noirsav) reported

@Greekgodx The troll arc is not working Greek, get back on H1z1 with b0aty

Trevor Nazelrod

(@My360Suckssss) reported

@DrDisrespect That and the fact that no developer has been able to come up with a good Anti-cheat… they never seem to work until another big game comes along. Fortnite, PUBG, Rainbow Six, H1Z1 etc all had issues and fortnite still does… STOP FORCING CROSSPLAY WITH PC..

Dano

(@DanoHeh) reported

@Bloodhunt Obviously you'd have to get rid of point requirement when joining games but shouldn't be an issue if you just increase the points required for each rank tier or something. It worked for H1Z1.

Holdmyale

(@hold_my_ale) reported

@DaybreakHelp I'm assuming that this was regarding some type of connectivity issue which occurred last year, the issues were resolved within 24 hours. I think the response time was understandable regarding what the issue was. thank you for your concern.

RoZZ

(@JakobRoss12) reported

@KEEMSTAR Ninja real self from the H1Z1 days has broken through

warpigmahalo

(@warpigmahalo) reported

@Kev60FPS @H1Z1Retweet You would have to buy daybreak which sold recently to eg7 for $300 million. Jace Hall already explained this problem and that the game is tied in with third party IPs including DC, Lord of the Rings and Dungeons & Dragons. Original IPs include EverQuest, H1Z1 and PlanetSide…

chadly m

(@fishermenAK) reported

@DaybreakHelp having loading issues in dc universe. Getting Auth. Error when going from one place to another. SolarSniper atomic player on switch. I've spent over $200 this month on dc universe. Fix it or I'm finding a new game tomorrow.

Doug Bachman

(@dbachman_11) reported

@LogitechG H1Z1 helmet being broken. Some of the others have already been said.

Fleef

(@Fleef5) reported

@BitBenderBrink Is gala interested in buying games out that are already made but need tweaking? A good example is H1Z1 or (Z1 Battle Royale). The game died years ago basically because bad changes were made and it took too long to fix it. Gala could revive the game, fix all-part2

Yogent

(@iGlorage) reported

@DaybreakHelp hey your payment processing is broken I've been trying to buy all access with all my credit cards and it keeps telling me they the info I entered is invalid. Fix this please

Amoredeluna

(@Amoredeluna1) reported

@H1Z1 dude fix the game man

BadTemperedBadger

(@BadTemperBadger) reported

Yo @DaybreakHelp, the sign in button and contact us button on the site don't seem to do anything. How is one meant to contact support?

Dixon ⏭ Lost Lands '22🦖

(@DixonYamouf) reported

@aLoCS_ same **** ruined call of duty also. gentlemans agreements being broken on lan to win matches. i understand br is rng but this is so dumb lol, what are we not fighting until 2nd circle like h1z1?

max

(@hadessmax) reported

@DeadByBHVR 5000 hours thrown away so that you don't fix anything and on top of that you get new perks so that the generator is repaired faster, painful continue like this and you will end up like h1z1!

revert ie

(@LinusMorin4) reported

@DontBame @blooprintgames @H1Z1 well lets hope not but ive seen this happen in the past u dont fix whats not broken

Grizz

(@GrizzOnRust) reported

@Alistair_McF honestly H1Z1 did the same back in the day, now look where the game is... i love rust and want the best for the game but the issue for me isnt the scripters you can kill them, its the blatant hackers who dont get banned cause the anti cheat is so bad

Lethoric

(@Lethoric) reported

@DaybreakHelp When are you going to fix your enhanced security feature so it actually works for everyone?... I have been trying to years, and it still doesn't work. Or add the use of Google's Authenticator tool. Thanks.

Nathon Reyn

(@NathonReyn) reported

@DaybreakHelp is it common for an issue to affect one character on a DCUO profile, but not others? One of my heroes won't load. 🤔

Mozaner

(@Mozaner1) reported

@A0iYT @PUDDIN54102867 The issue is much older and goes much deeper. I don't have enough data about the current gen of consoles. But cheats had been there since PS2 days. It's an issue many people became aware of very recently. But it became mainstream in the BR era. H1Z1 brought cheats from CS.

Ryan Murphy

(@Murphy1up) reported

@jimmywhis Lies, the most asked questions you get is about the shotgun balance on H1Z1. So when are you going to fix it Jimmy? WHEN!?!

Potatostein ✨💙💛🇺🇦💙💛✨

(@Von_Potatostein) reported

@JayGameZ13 Yup it becomes an ethical problem, there is a need for transparency when referencing, credit and/or asking permission is a must IMHO. I just think that it would happen the other way around (H1Z1 copying an image from the fortnite art comm) the response would have different.

JayGameZ

(@JayGameZ13) reported

@Von_Potatostein Yea I see the problem kinda. I think its worth pointing out that credit to the original would have been really appreciated however I'm unsure if this will negatively impact H1Z1 in any way so from that perspective I don't see an issue. But then again I'm unsure. However great job

Hikari

(@HikariZ3N) reported

@Von_Potatostein I'd say it's more inspiration, it's a nod to an already old Zombie survival game, not any problems i'm seeing here unless the people at H1Z1 complain about it

iiEixo

(@ii_eixo) reported

@Xed_fps @Bloodhunt Thats the problem with entry fee ranked implementation.. H1Z1 had way better ranked system where it was about getting wins + getting most kills possible.. so top ranked bracket had to play aggro and race kills.. but yep ranked would fit trios WAY better

✧♦𒆜 JimmyDo age 26 Prince King's Raid✧☆ Queen hug

(@jimmyhieudo) reported

@Thermathule @DaybreakHelp Try @antitecol now to fix your account immediately

Mam_presh〽️♂️

(@MuhammadBnAbdu1) reported

@Thermathule @DaybreakHelp I suggest you dm @TimmHan to fix your account immediately

Kris Hernandez

(@kelefane) reported

@DaybreakHelp I've been locked out of my account due to suspicious activity and your 2 step verification process is unable to process my request for the past 3 days now. I submitted a ticket on Saturday and would really like to get this issue resolved asap please.