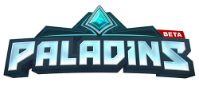 Is Paladins down?
Paladins: Champions of the Realm is a free-to-play multiplayer Hero shooter video game released on September 16, 2016 as an early access product by Hi-Rez Studios.
No problems detected at Paladins
Paladins problems in the last 24 hours
At the moment, we haven't detected any problems at Paladins. Are you experiencing issues or an outage? Leave a message in the comments section!
Most Reported Problems:
Sign in

Game Crash

Online Play

Matchmaking

Glitches
Paladins Outage Map
The most recent outage reports and issues originated from:
| | | |
| --- | --- | --- |
| Braunschweig | Online Play | |
| Lima | Game Crash | |
| Santa Maria de Palautordera | Game Crash | |
| Puebla | Sign in | |
| Buenos Aires | Game Crash | |
| Tepic | Game Crash | |
Paladins Comments
Tips? Frustrations? Share them here. Useful comments include a description of the problem, city and postal code.
Paladins Issues Reports
Latest outage, problems and issue reports in social media:
Raik Arglack

(@RaikArglack) reported

@CastleQuin Probably as broken as D&D Paladins

Delmerino

(@Delmerino1) reported

@HiRezRomanova I have a problem with the epic games launcher when you could get rewards for downloading it. So what happened was that I launched up paladins on it when you still could get the skins and chests. I got the skins but I didn't get the 2/1 (?) chests. (1/2)

Delmerino

(@Delmerino1) reported

@HiRezRomanova Even tho this problem might not be for I have no idea who to send it to so I don't it to you. When I for the first time boosted up paladins on epic games it gave me the skins and such but I didn't receive the chests. Any idea how to still get them?

as a service

(@asaservicebot) reported

Paladins as a Service

òwó

(@bibbleboppop) reported

Anyone else having a glitch with paladins rn? A friend and I queued for siege but just us in the loading screen and it counted down to 0 so we closed our games but when I reloaded it I was in a match maybe with all bots? It was very confusing #paladinsgame @HiRezStudios

脳たりん™

(@GesusTheGamer) reported

Yo wtf did the paladins servers just crash?

ty

(@tyfromtargett) reported

@Meowlodykitty @PaladinsGame @ForFansxFans io is broken tho

Wren

(@FF__Haunted) reported

@PaladinsGame FIX YOUR GAME

𝘬𝘪𝘳𝘢`•°

(@cherrykvbuzz) reported

@Trinit_e Whether is unconscious or not saying that phrase, they only manages to lower all the possibilities that the paladins improve and speak about their problems appropriately. They are just children, they deserved a break more than anyone.

GearTempo

(@Annihal8tr) reported

Still annoyed about daily login being removed from Paladins. I understand if you want people to actually play the game but removing such a crucial feature and slapping a battle pass on the game isn't the way to go.

Mariio

(@Calmlushmm) reported

@fluchiz @PaladinsGame Ok..? Talus was nerfed in the upcoming patch...his sustain and rate of fire, also complaining on a Lian anniversary post is literally helping nothing. stop generalizing the whole console community cause I never have many problems with talus.. Viktor and Viv on the other hand..

Brendan Fraser Gaming

(@Diakyuto) reported

@ivxlocityy @PaladinsGame Each platform has their advantages but they with aim assist you have the ability to snap onto targets with characters like strix and the hitboxes doesn't help its case. It would be okay if this game had accurate hitboxes which it doesnt. But it's not a problem in Higher ELOS

Mar

(@TheMarMan) reported

@fluchiz @PaladinsGame Heavily weakening aim assist for him would easily solve the problem of him getting free headshots due to his extremely short viewmodel attempting to go towards to the upper center of a character but instead goes to the head but nah they just wanna keep it like that.

rin

(@fluchiz) reported

@WorstEvieMainNA @PaladinsGame Cause they never answer, and the one who answer its a guy attempting to trolling. So im done reporting bugs, crashes and balance issues on console because they never read it

TheOneNerdToRuleThemAll

(@Sainty_Sinner) reported

@PaladinsGame Anyone else having problems with the game randomly freezing?

Highlord Aspros

(@AsprosOfAzeroth) reported

@BellularGaming Paladins Retribution Aura is till a problem. That needs to go! just give it a flat dps% or something like the minor from Vision of Prefection. I don't want to benefit from my friend's death!

Leak Man

(@Oskar71701295) reported

@M_MRL_Paladins But how did u launch paladins to Play vora for example bcs there was one method but its not working anymore

LeoRanedgiest

(@LeoRanedgier) reported

@nihilisticpillo No, I do not think that is the problem, because Paladins have spellcasting and they dont suck *****

Ian Gandon

(@lhtst) reported

@insaneXinflame @PaladinsGame I agree, nerfs galore. None of them need nerfs but there are plenty of wider issues that do need to be looked at. Matchmaking needs rebuilding from the ground up. Loads of bugs ranging from crashes to notifications that won't go away. They just don't listen if your not vex or aoc

Deadlymuffins

(@Deadlycakess) reported

@PaladinsGame PLEASE FIX PALADINS!

Deadlymuffins

(@Deadlycakess) reported

@PaladinsGame FIX PALADINS!

YorHa

(@YorHa_Unite) reported

@Mrs_Trottier @HiRezRomanova This is not an excuse. If a game is out but have a large quantity of performance issues, this is a problem, and the same goes for Paladins. It's not cool to open Paladins wanting to have some fun but suddenly your game crashes, or some stupid bug appears.

sqgta

(@sqgta_) reported

@elias9423 Yeh like me my controller broken 2 its so fking hard to playing paladins

Haytem Madrid

(@haytem_madrid) reported

@kreepersyt @HiRezRomanova Lol only two things keep me play paladins New maps or update map And idk I feels broken idk why I am here Sorry dud

DaimondSLR

(@DaimondSlr) reported

@NVIDIAGFN @PaladinsGame the steam chat is bugged whenever i try to talk to someone over there it gets black and doesn't work, fix it please

affliction core

(@scraplers) reported

@NVIDIAGFN @PaladinsGame i know you dont care about one unsubscriber but i want you to know i am very disappointed in this service

azari c.

(@_aZaRi_) reported

@PaladinsGame I have a complaint about the severe connectivity issues within the servers for paladins. They need a huge amount of maintenance. I've been booted out of a minimum of 8 matches in the last 2 days and half of my gameplay is interrupted due to these problems.

James of blades

(@ouuttheree) reported

@PaladinsGame @HiRezStudios fix your ******* game

Tranquil

(@AffinitySere) reported

@KuhImatt Smites player base isn't as big as paladins. Other games are having the same server issue. Yes It might be true that they're moving resources towards their new game. But there's also a high chance that your isp is dropping your packets. Might also be that your lan is the issue

Sparklepharts

(@Mrs_Trottier) reported

@jugawa04 @haytem_madrid @PaladinsGame I know this game has its issues, but its no where near as toxic as some of the top played games out there. I think we have a pretty good community here honestly. Yeah there are trolls here and there, but that's literally every game.